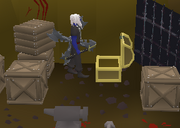 Will you hit it big or bust? Risk your items for a better item in return, do you feel lucky? If so teleport to the mining and smithing teleport under skilling teleports and test your luck at these amazing rewards now!

At the moment there's a variety of items that can be upgraded with new stats/appearences. These items include the following:
| Image | Stats | Item Name |
| --- | --- | --- |
| | | Dragonbone Melee |
| | | Assault Rifle |
| | | American Torva |
| | | Soulflare |
| | | Ice Katana |
| | | Gold Chain |
And now for the AMAZING UPGRADE REWARDS!!!!
Image
Stats
Item Name

Dragonbone Melee

Set (U)

Scroped Rifle (U)

American Torva

Set (U)

Soulflare (U)

Golden Katana

Nocturnal Chain
Ad blocker interference detected!
Wikia is a free-to-use site that makes money from advertising. We have a modified experience for viewers using ad blockers

Wikia is not accessible if you've made further modifications. Remove the custom ad blocker rule(s) and the page will load as expected.