Loyalty Point Shop
Be LOYAL to Dreamscape!
It is as simple as that!
You are rewarded for every hour that you play.
People who have donated will also receive additional points.
- 100 points for regular players.
- 110 points for donator up.
Loyalty Shop is located at home shops.
Contents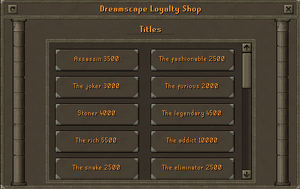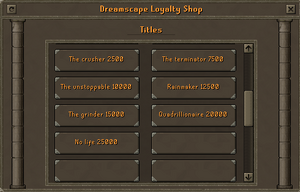 | Titles | Cost |
| --- | --- |
| Assassin | 3,500 Points |
| The Fashionable | 2,500 Points |
| The Joker | 3,000 Points |
| The Furious | 2,000 Points |
| Stoner | 3,000 Points |
| The Legendary | 4,500 Points |
| The Rich | 5,500 Points |
| The Addict | 10,000 Points |
| The Snake | 2,500 Points |
| The Eliminator | 2,500 Points |
| The Crusher | 2,500 Points |
| The Terminator | 7,500 Points |
| The Unstoppable | 10,000 Points |
| Rainmaker | 12,500 Points |
| The Grinder | 15,000 Points |
| Quadrillionaire | 20,000 Points |
| No Life | 25,000 Points |
| Item | Name | Cost |
| --- | --- | --- |
| | Veteran Cape | 100,000 Points |
| | Elite Pernix Set | 3,000 Points |
| | Dragonbone Set | 3,000 Points  |
| | Loyal Banner | 8,000 Points |
| | Ronnin Set | 15,000 Points |
| | Lightbringer Shiel| | 20,000 Points |
| | Aizu Set | 25,000 Points |
| | Saradomin Hammer | 15,000 Points |
| | Barbaric Gloves | 25,000 Points |
| | Anguish Gloves | 25,000 Points |
| | Mystic Gloves | 25,000 Points |
| | The reefer Set | 40,000 Points |
Pets
Name
Cost

Crash Bandicoot Pet

+5% Damage

+15% Droprate

50,000 Points

Space Invader Pet

+2X EXP(Can Stack)

10,000 Points
Pacman Pet

+7.5% Damage/Droprate

15,000 Points
Knuckles Pet +7.5% Drop Rate

+7.5% Double Droprate

7,500 Points