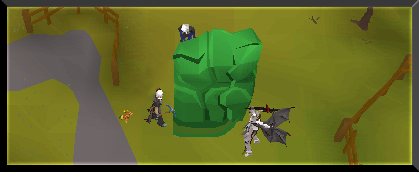 What is a Falling Star?
A Falling Star is a new minigame we have added into our server. Once every 3 hours it appears randomly in one of many locations throught the dreamscape world. The Fallen Star is a green like object that requires you to mine it, Which you get rewards from.
Locations: 
Below are the listed locations of where the Fallen Star appears:
| Description | How to get there | Picture |
| --- | --- | --- |
| South of Varrock | Teleport to Varrock then walk south from the spawn point. | |
| Eastern Wilderness | Use the Pk teleport to the Eastern Wilderness and walk north towards the fishing spots. Level 36 Wildy. | |
| Southern Wilderness | Walk north from Edgeville on the East side of the black knights fortress. It'll be by the Bandit camp entrance. Level 23 Wildy. | |
| West of Lumbridge | Teleport to Lumbridge and walk West outside of the city. | |
How it works: 
Once every 3 hours the star appears, you are required to take Any Pickaxe to mine it and requires level 0 mining. You mine it by spam clicking on the star. For every 20 star dusts you collect that grants you 1 rewards it is a 20:1 Ratio.
Rewards:
White Gloves
White Boots
White Full Helm
White Platebody
White Platelegs
Ice Katana
TokHaar-Kal
Raw Shark
Magic Logs
Big Bones
Dragon Bones
Glock
Ak-47
Ad blocker interference detected!
Wikia is a free-to-use site that makes money from advertising. We have a modified experience for viewers using ad blockers

Wikia is not accessible if you've made further modifications. Remove the custom ad blocker rule(s) and the page will load as expected.