Attack
Attack; is a melee combat skill which determines the accuracy of a player's melee attacks and the types of weapons a player may wield. The higher the Attack level, the fewer misses a player will incur during melee combat. As Attack is a vital skill in melee combat, increasing one's Attack level will increase one's combat level associated with melee.
For a list of Melee weapons and gear, see Melee Gear
Training
Because of the experience rates of Dreamscape, it is actually rather easy to achieve a 99 combat skill. It is recommended to begin your training experience at novice areas such as ::train or ::mbox. Use the weapons listed above for efficient training.

As a new player, stick with your starter weapon, until you have a chance to achieve/wield new weapons.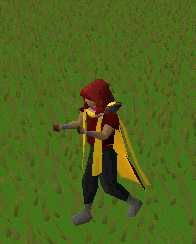 Skills
Gathering

 Woodcutting •  Mining •  Fishing •  Hunter •  Farming

Support

Artisan

 Firemaking •  Fletching •  Cooking •  Smithing •  Runecrafting •  Crafting •  Herblore

Combat

 Attack •  Strength •  Hitpoints •  Defence •  Magic •  Ranged •  Prayer •  Summoning •  Dungeoneering